Photos from 2010, 2011, 2012 and 2013.
Earth Day week, April 2009
Just a few weeks before official opening
The holdup has been the concern over cliffside rocks working loose and falling onto the path, which occurs on every island in the state. Fencing is being installed and when finished, the path can be fully open to the public.

The chain link fencing will catch rocks rolling down from the exposed faces. This section is just south of Kealia Beach near the overlook. (This portion is still open to the public.)

A long section north of Kealia is almost done except for a few open segments near the closed gate.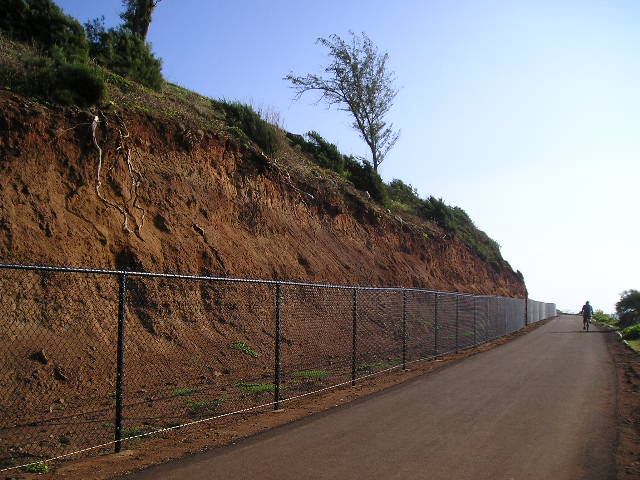 The most exposed cliff face is south of Donkey Beach. This is the longest stretch of fencing work.

In addition to the rock fall fencing, new naupaka has been planted along the oceanside edge and is being watered with drip irrigation.

The second construction gate near Kumukumu Stream was left open, possibly because all of the northern fencing looks complete.

North of the Pineapple Dump pavilion, a concrete swale has been installed to control rain water runoff from the mauka properties. Note that bark chips have been layed over the exposed dirt shoulders as well.

A similar swale was finished at Donkey Beach. The concrete path to the left leads up to the highway, the parking lot and the bathroom. Nothing else major has changed on the path since last year.
---